Terrill Welch (Artist, Photographer, & Writer) –
Impressionist Painting – Beautiful, mysterious & rugged southwest coast of British Columbia.
British Columbia artist and photographer Terrill Welch's distinctive palette, quick sure painting strokes, and photographic images capture forest, sandstone, sea and sky. They remind us that there is only one moment ­ this one. Where does her powerful yet gentle creative expression come from?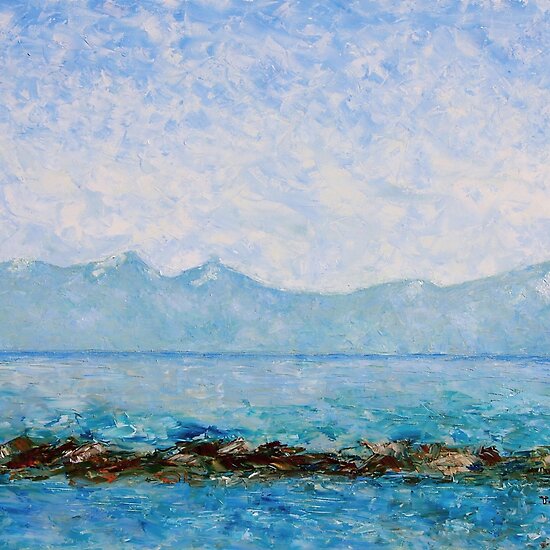 Born in the village of Vanderhoof in north-central British Columbia, Terrill's art training came at an early age and continued more in the European style of mentoring and tutoring. At seven years old, Terrill unexpectedly was enrolled in correspondence for home schooling. Her mother decided drastic changes were needed after Terrill's first year of public school. Her mother had driving twenty miles each way while meeting logging trucks on unplowed winter roads, to get Terrill to school in Horsefly, a small village in rural central B.C.. This, combined with Terrill's chronic tonsillitis, made the decision easy. She would be home schooled for grade two.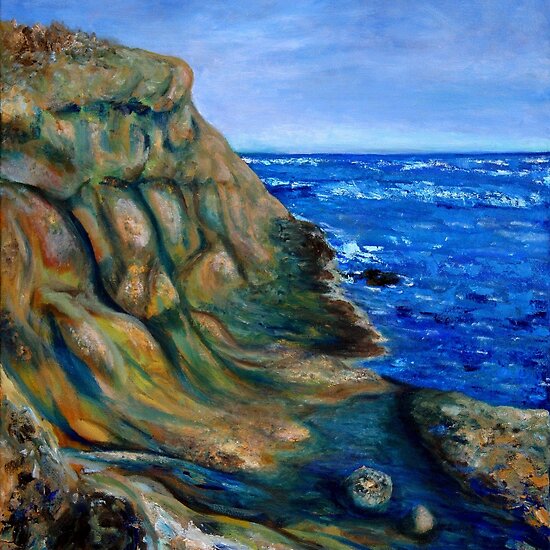 "Fortunately, large rolls of paper, cans of dried paints, crayons, construction paper, pencils and paint brushes were purchased in bulk supply," Terrill recalls. "Art supplies were considered necessities along with mail-order library books from the Vancouver public library."
Terrill was not a natural scholastic shining light. Mathematics and reading were hard work for her during those early years. However, she thrived in the structured art assignments which taught scale, perspective, composition, shading and color in the grade two curriculum. Between lessons she would sit and read and reread the material for each assignment, often working far ahead in the course work, just for practice. The once-a-month trips to town meant that she would have new books to read. She paid as much attention to the illustrators as she did the authors.
A slightly tattered heavy-weight paper replica of Van Gogh's "Cypress and Wheatfield", belonging to her mother, hung on their two room cabin wall. Terrill found the same painting in her art book.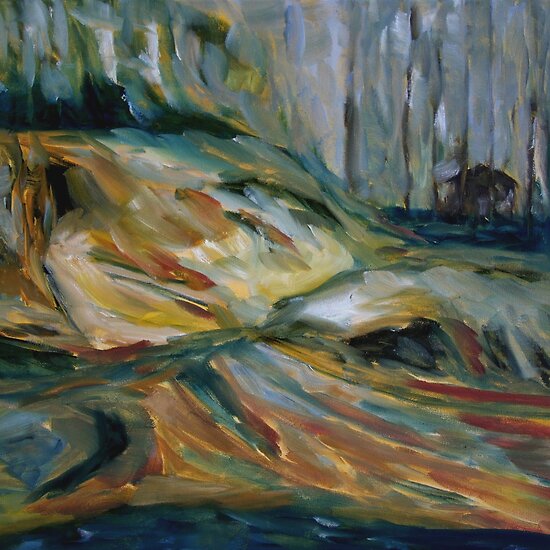 "It was about this time that I knew I was going to be an artist,"Terrill explains. "Though we lived in the middle of the bush, eighty miles outside of the small town of Williams Lake, and I would not see an art gallery until I was much older, I knew that there were great paintings… and I was going to paint."
At fourteen years old, Terrill was invited by Australian trained artist and teacher Sheila Timmins into an adult evening painting class. There she began her first in many years of art training by individual course work. That year Terrill sold her first 12X18 inch oil painting. Her parents were now living on a large acreage along the Stuart River twenty-seven miles outside of Vanderhoof. Each art class meant her parents would have to drive for an hour each way so she could take the class. They said yes.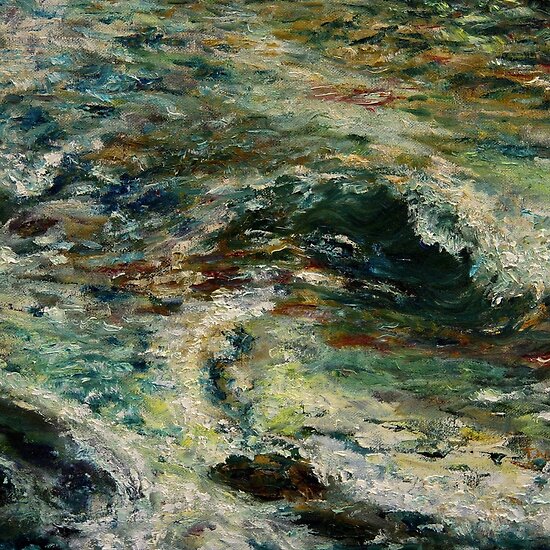 Having planned to go to art school upon graduation Terrill sought advice from her teacher and mentor Sheila Timmins. Sheila set up a special private lesson for Terrill where she was asked to do a series of exercises. At the end of the exercises Terrill was asked to evaluate the quality of each piece and how she felt when she was doing the work. Based on this review, Sheila advised that because Terrill had learned the backbones of drawing and painting at such a young age, art school would be tedious. It likely wouldn't have much new to offer. Even worse, it might undo some of the lessons that had become intuitive and automatic to Terrill's creative process. Reluctantly, Terrill accepted this advice. She continued to develop her talents as a young artist without seeking a degree in art.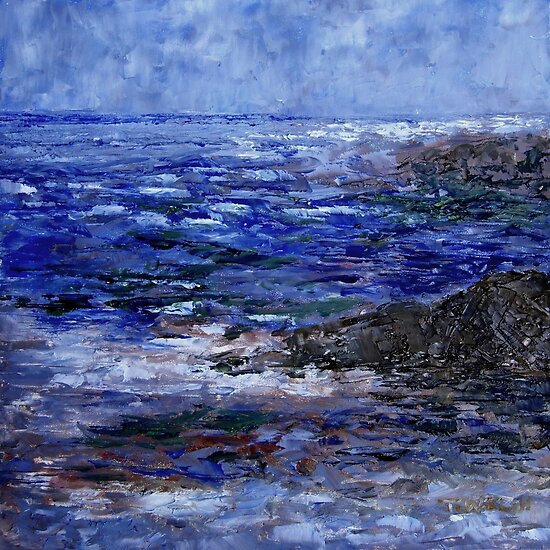 By her early twenties, Terrill switched to the more difficult medium of watercolors, to reduce toxic fumes and drying time. She painted in the late hours. Her days overflowed as a single parent with two small children working full-time in the social service field and going to university part-time. In her late twenties, Terrill went to school full-time and worked part-time in Victoria, with only the odd art class in charcoal drawing to sustain her creative drive.
During the next eight years, growing children and a thriving career as a program coordinator and public servant kept Terrill's art work on a slow simmer, with flashes of flamb type presentation. She had two solo art shows during the 1990's and several paintings were shown in group exhibits. Terrill received juried honors recognition for one of these paintings. During this time, Terrill's paintings were selling quickly, sometimes even before she could get them framed or shown. The pieces were going into the private collections of everyone from jewelers, massage therapists, nurses, and owners of logging companies, to university professors.
At her first solo show, the gallery owner introduced Terrill to a rather wild lean looking character adorned in a weathered hat and long mustache. The gallery owner began by saying: 'Oh Terrill, you know Bill don't you?' Astutely reading Terrill's raised eyebrows, she continued "this is Bill or sometimes known as author W.P. Kinsella. He was wondering if you could personally show him your work." Terrill had read several books by W.P. Kinsella and happily gave him the full guided tour through her water color paintings, answering his questions. He didn't buy a painting but he did give the show a memorable moment of celebrity status.
Watercolor artist and teacher Jack Peterson was Terrill's instructor and mentor during these years of evening and weekend classes while she was living and working in Prince George B.C.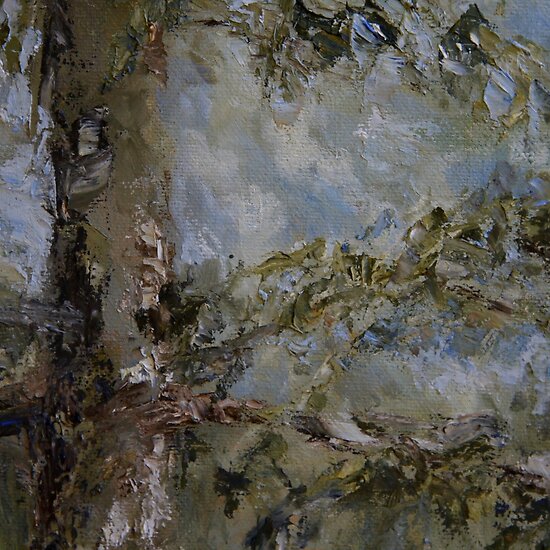 Employment in more senior positions for the Province of British Columbia, and the then "Ministry of Women's Equality," took Terrill to Victoria B.C. For the next four years the demands of her leadership positions reduced her art to a small ember. But upon leaving government in 2002, to start her own executive leadership coaching business for women leaders, Terrill again picked up her creative work under the direction of artist and renowned Canadian teacher Glenn Howarth. She took three years of figure drawing and painting lessons in small classes of less than six students. During this time, she learned more about how humans see, and how that can translate into a drawing or painting than at any other point in her art career. Terrill attributes the strength of her current work in oil painting and her photography to Glenn Howarth's brilliant tutelage.
In May 2007 Terrill moved to Mayne Island B.C. with her partner, where she now has the time in the most perfect location to focus fully on her art work. Her other work fits into the few openings left between photograph shoots, studio time and writing. Terrill's rural upbringing and her relationship to the natural environment is a strong influence in her impressionist and intuitive style of creative work.
Terrill Welch's solo exhibit Sea, Land and Time opens on Friday, September 3, 2010 at 7:00 pm at the Mayne Island Reading Centre (the Library), in the heart of Miner's Bay. Her exhibit displays all new work, in water miscible oil paintings and photographic canvas prints, showcasing the beautiful, mysterious and rugged southwest coast of Mayne Island, British Columbia, Canada.
Terrill Welch (Artist, Photographer, & Writer) – Telephone, Blog, Art Gallery, & Twitter –
(250) 539-3677
http://creativepotager.wordpress.com
http://www.redbubble.com/people/terrillwelch
https://twitter.com/terrillwelch
Curated by Art of Day, TwitterFirstFriday creative exhibitions reach an even larger audience through Facebook and the TFF Gallery Edition newsletter. This exclusive publication features only the highest caliber art from each event. In addition, subscribers receive the always new and exciting Friday Night Artist Features! Make sure to subscribe!

Wondering how Art of Day develops and grows events like TwitterFirstFriday? Visit the Art of Day Store when looking for art supplies or other common everyday products. As an Amazon Affiliate, we earn small commissions when purchases are made through our secure, Powered by Amazon aStore!

Art of Day is maintained by dedicated NetSys Interactive Inc. owners and employees who generously contribute their time to maintenance and editing, web design, custom programming, & website hosting for Art of Day.